I want to take a short break today from food and talk about something I know many mamas out there use and many more are curious about…
Cloth diapers.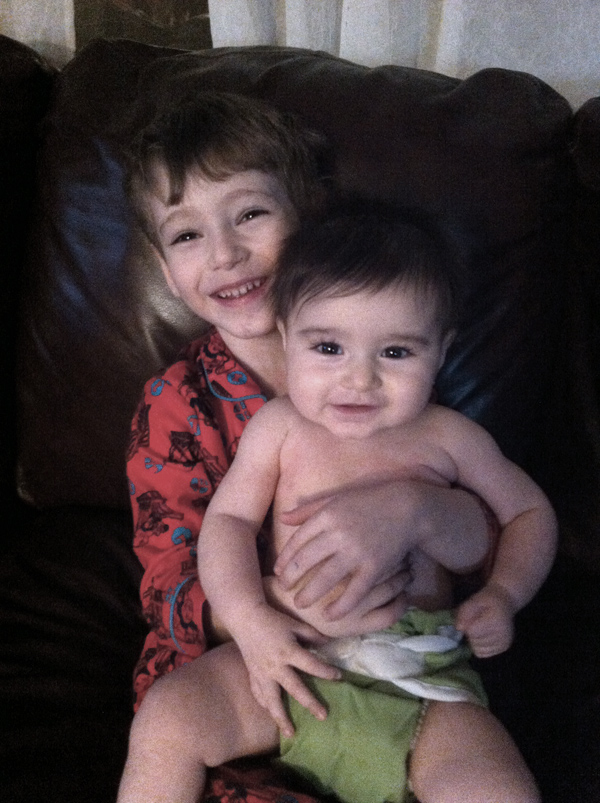 I've been cloth diapering Little Mama since she was 1 month old.  After 8 months of diapering her in cloth, I can personally tell you, its been easy; for myself and my husband.
When it came to my older two, I wanted to cloth diaper them, but was fearful.  I had many questions and no good resources to get me started.  Sure, there was a lot of information on the internet, but so much so, that it was overwhelming.  I didn't know where to start and there were too many people on the opposing side telling me that diapering in cloth would be too much work, would cause leaks, and rashes.
I can kick myself that I didn't do more research on my own at the time.  It would have saved me so much money to have been able to build my cloth diaper stash and pass them down from child to child.
I can only move forward and am so happy that I decided to cloth diaper Little Mama.  We've had none of those issues, have saved a lot of money, and I'm happy that her little bum is not exposed to any harmful toxins that can be lurking in regular diapers.
I had to learn all of this on my own and only wish my friend Erin from The Humbled Homemaker would have written her brand new ebook called, Confessions of a Cloth Diaper Convert, 6 years ago!
The time of researching and answering all of my questions in one place would have been invaluable. I'm still a newbie cloth diapering mama, and I've got to say I'm excited to have a copy of my own – I'm already learning how to keep my diapers fresh smelling and new.
I'm writing this post so that any mama out there considering cloth diapering and looking for great information in one place can get started.
For the launch of her new book, for this week only, Erin is offering her ebook for $9.95 – less than the cost of using disposable diapers for one week!
Here's the best part…. the book comes bundled with amazing freebies!
Free Baby Accessories*
A free nursing cover by Udder Covers!* ($34.95 value!)
A free baby sling from Seven Slings ($48 value!).
A free nursing pillow from Nursing Pillow ($39.95 value!).
A free carseat canopy from Carseat Canopy ($49.95 value!).
*Note: Shipping is not included. Be sure to check it before entering your credit card information.
Here's Erin, talking about her book.
Besides blessing us with all of her information about cloth diapers, she's also scored us amazing discounts at these online stores.
Exclusive, Secret Coupon Codes to Cloth Diapering/Natural Living Stores
Diaper HQ: 10% off
Smart Snug: 20% off
Jack Be Natural: 10% off  (Some restrictions apply.)
Sweet Little Blessings: 10% off
The Joyful Giraffe: 10% off
Over the Moon: Free shipping on orders over $20 use secret code
Smart Bottoms: 10% off
Mighty Nest: 10% off
Jenuinely Pure: 15% off
Third Day Naturals: 5% off
Crunchy Clean: 10% off
Lexie: Naturals: Secret code will entitle anyone who makes a purchase of any value to receive a free lotion sample
Young Living Essential Oils from The Encouraging Home: FREE guide to Using Essential Oils AND 10% off order (plus options to add other freebies as well!)
As you can see, this was this is an amazing ebook bundled with great deals that I had to share it with you.
So, if you're looking to cloth diaper and need great information all in one place, or if you know someone who is interested in cloth diapering and would like to gift this, I'd encourage you to take advantage of this amazing deal for this week only by clicking here now!
Note* This post contains affiliate links which bless my family.