Are you ready for some pretty amazing Black Friday deals? I have two that I'd like to share with you that are both near and dear to my heart and I know that you'll find useful for years to come!
1. 50% off discount on a 3 month subscription to the My Humble Kitchen menu plan!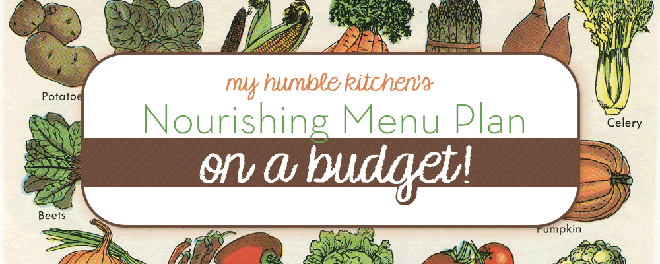 For Black Friday weekend only, I'm offering the 3 month subscription service to the My Humble Kitchen menu plan for 50% off!
Click Here to BUY your subscription plan NOW!
That comes to incredible price of $4.16 a month or just over $1 a week to be sent a a menu EACH WEEK filled with 5 days of nourishing suppers that include cooking tips, economical tips, and a picture for each meal.  Also included in the menu plans are staples like nourishing stock, fermented foods, and a nourishing dessert each week.  PLUS it includes a weekly calendar and shopping list!
For $1 a week, you just can't beat that! But, buy fast, because I won't offer a deal like this for another year!!
Click Here to BUY your subscription plan NOW!
By the way, my prices are going up next year… so hurry before it's too late!
2. The Ultimate Healthy Living Bundle Sale is BACK for Black Friday weekend ONLY! This will be the LAST time you can get this incredible bundle!
Did you miss the Ultimate Healthy Living Bundle the first time it came around?
We've heard from so many people who were disappointed they missed out the first time around, that we're happy to announce the Encore Flash Sale for Black Friday weekend only! Additionally, 25% of this flash sale's proceeds go to a few of our favorite non-profit organizations!
To recap on how I'm involved including a SPECIAL offer from me for the the My Humble Kitchen Community…
1. My brand new eBook, Nourishing Cookies for a Healthy Holiday is included in the Healthy Kitchen Category.  I've worked hard to bring you 10 naturally sweetened cookie recipes that your entire family is going to enjoy.  I'm most excited about having developed a soft and chewy honey sweetened sugar cookie which pairs beautifully with a honeyed buttercream. That recipe alone makes the entire book worth its weight in gold!
2. I'm going to be your mentor for the coffee table conversations topic, Gearing Up for the Gardening Season.  If you follow me along at My Humble Kitchen you know my passion for organic gardening and cooking nourishing meals with the fruits of my labor.  I'm SO excited to be able to share my knowledge with you as I answer your questions in a live webinar early next year.  I'll also be popping into facebook for an entire week to mentor you as best as I can.
3. Special to the My Humble Kitchen community, if you purchase a healthy living bundle this week, I'm going to throw in a free 3 month subscription to my menu plan valued at $24.99!  Since this is an EXCLUSIVE bonus for the My Humble Kitchen community, you must email me after you make a purchase so I can set you up into my menu plan subscription service.  Send that email to diana@myhumblekitchen.com.
What's in the Bundle?
We took 86 eBooks (plus 1 eCourse) by popular bloggers on topics like real food & recipes, green living, natural cleaning and beauty, mental and emotional health, fitness, herbal remedies and more.
Then we added the brand new "Coffee Table Conversations," a 12-week series of author mentorship through interactive online conference calls and private support groups.
We finished it off with 9 bonus sponsors offering you $150+ of incredible products and services to help you along your way. This includes bonuses like $25.98 of FREE eco-friendly laundry detergent from Dizolve (because we all need clean clothes). This bonus nearly makes up for the entire cost of the bundle!
…