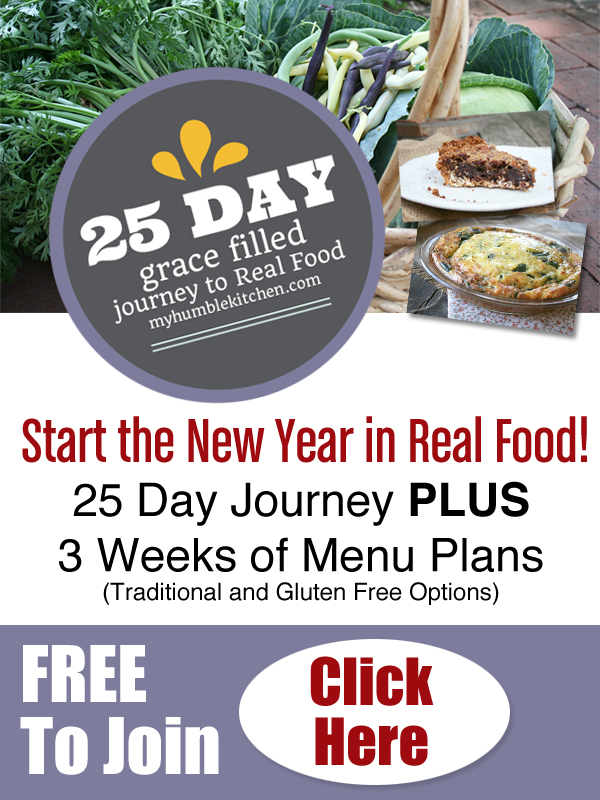 We're only a few days away from starting the 25 Day Grace Filled Journey to Real Food!
Also, my sweet friend and sister in Christ, Kelly, from The Nourishing Home is teaming up with me for this challenge. She'll be providing the gluten free menu options and writing a few of the topics that you'll find below. As you can see, you're in great hands!
Below are the topics that you will be receiving via email every day for 25 days.
Introduction
A Plea For Pastured Meats
The Importance of Real Milk
Eggs – The Super Food
Why We All Need Fat – Butter and Lard
What Kind of Cooking Oil Should I Use?
Real Salt – Yes, There is a Difference
The Miracles of Broth
An Introduction to Natural Sweeteners
GMO'S – What is it and What Foods Contain It?
The Dangers of Processed Soy
The Tangled Web of Bread
An Intro To a Gluten Free Diet
Now That we Know the Basics, Let's Ease Into Real Food – Buy This Not That
Let's Learn About the Growing Seasons (nutrient content in vegetables)
Organic Foods – Dirty Dozen and Clean 15
A Real Food Pantry
Saving Money By Menu Planning
Taming the Picky Eater
The Mediterranean Secret to Phenomenal Vegetables
Your Favorite Toddler Foods – Realfoodicized (Mac and Cheese, Hot Dogs, Chicken Nuggets)
Real Food Snacks
Real Food Lunch Ideas for Families on the Go
Real Fast Real Food Dinner Ideas (Crockpot, Rice Cookers, Freezer Meals)
Kitchen Appliances That Will Save You Time and Money
Cookware – From Cast Iron to Stainless Steel
Don't forget, you'll also be receiving 3 weeks of real food menu plans (you'll have a gluten free option) plus additional charts and guides to help you get started on your real food journey.
…