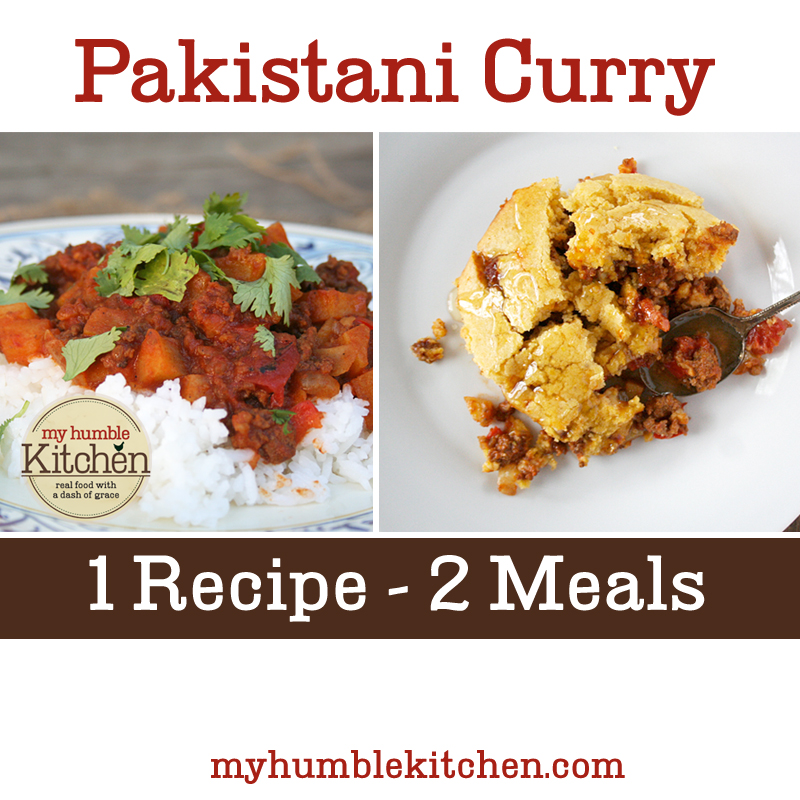 The spring time is generally a busier season for me. With spring cleaning, gardens to sow, 2 boys and a husband in baseball, we seem to fill our days quite easily. It's in this season that I make a lot of slow cooker recipes, rice cooker recipes, and 1 recipe-2 meal creations. With our busy spring schedule, I'm all about saving time in the kitchen.
The good thing is that saving time in the kitchen doesn't mean to sacrifice flavor… especially when it comes to Pakistani curry cooked two ways. I originally saw this meal over at Whole New Mom. It was definitely my style of food so I had to give it a try. As I usually do, I modified the recipe a bit and my family loved it. So much so, that I included it in my menu plan and my subscribers enjoyed it as well.
What I love about this recipe is that it makes a big batch which can be re-used in another meal during the week. The filling is rich and savory, made with ground beef and potatoes, and then simmered in a tomato sauce with Indian spices. What I love about this meal is that you can use any type of curry you may have on hand or make at home. It can be as spicy or as mild as you like it. I prefer it mild.
For my family, with 2 young boys and 1 toddler, I can make one batch and have enough filling to make another meal in the week. However, once my boys start becoming adolescents, I'll most likely have to double the batch. The filling, in my opinion, tastes even better served the next day so it makes your second meal taste even better than your first.
…